School News
Horse Club at Falun School
Posted on

April 4th, 2019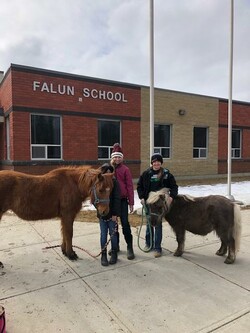 Falun School Grade 6 students take part in different student leaderships roles throughout the school year. One of those roles is running noon hour clubs for other students.
This year we were lucky enough to have Shay Heilman and Emersyn Tabler run a Horse Club for students. At the weekly meetings Shay and Emmy taught the students about horses and how to care for them, as well as sharing their 4-H experiences and achievements.
Students in the club were treated today with a special visit from "Dolly" and "Kasper".
We would like to thank Shay and Emmy for their hard work and to their parents for transporting Dolly and Kasper to the school.